Ten Tips for Marketing to Adult Students: Reaching the New Normal, pt. 3
Editor's Note: This is the third in a multi-part series focused on marketing to adult learners, a lead-off to further series on enrolling, retaining and graduating adult learners. In the previous installments, we looked at the adult learner market — its size and growth potential, what's motivating adults to consider returning to college, and the logistical challenges they face — and five key questions on adult learners' minds. Later, we'll explore ten ideas institutions can use to attract these learners. We've compiled these posts in an eBook that you can download here and share with colleagues.
Ten Marketing Tips for Attracting Adult Learners
In previous installments, we've discussed who adult learners are, why they're considering returning to college, and what questions they have about returning to college. Now let's turn our attention to what colleges can do to bring prospective adult students closer to them.
1 – Your Website is your Front Door – Optimize it
More so than traditional students (who have more time for multiple campus visits), adult learners conduct most of their college searches online. So your website is a more vital marketing asset with this learner segment. Of course, there's a breadcrumb trail of search and social that leads visitors to your site, and we'll get to that. But first thing's first: if you're leading visitors to an uncompelling destination, all those traffic-building efforts are wasted. That's not to suggest wholesale changes in order. But you can make less costly incremental changes, test visitor behavior, and iterate accordingly. Here are some areas to explore:
Make it Findable. Be certain your site is optimized for search engines. Search engine optimization is an ever-evolving marketing science. It can take some digging through your site's analytics to understand what keywords or terms visitors were searching for to find your site, which of your pages attracted the most engagement and more. If you don't have that expertise in-house, there are affordable contract professionals who will help you optimize your website, and it can be money well spent. Of course, there are freemium tools like Yoast SEO with plug-ins that can teach you the basics. Here's some advice from Ruffalo Noel Levitz for colleges looking to boost their presence in search.
Make it relatable. Images of leafy campuses, eager young faces playing the violin, performing ballet or mugging with the mascot may impress prospective traditional students and their parents. But they say very little to the adult learner about what her experience at your school would be like. Keenly aware that they're serving multiple audiences, several institutions have added subdomains to their websites, where the user interface, images, and navigation are tailored to their adult audiences. The University of Mary Hardin-Baylor, Champlain College and the University of the Incarnate Word are three such examples. Other schools, like Elizabethtown College, have created distinct URLs for their adult programs. With each of these approaches, there are potential SEO benefits.
Make it Navigable. The typical college website is still a creature of the '90s — an online brochure that tries to be all things to all audiences, and winds up being a loosely structured information dump. Think about what an adult learner would be searching for on your site — unique services, programs, costs, etc. — and give them a clear path to that information. Among the advantages of distinct site experiences for adult learners — such as through subdomains, subdirectories or separate URLs — is that you can consolidate all of your adult-centered content in one streamlined environment, without forcing this time-constrained audience to wade past content geared toward your traditional learner audience.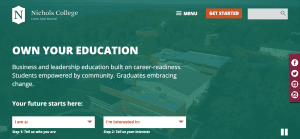 "Nichols College redesigned its website last year, and one of the key challenges was to create a site that catered to a myriad of prospective student types," says Cynthia Goodwin Brown, Nichols' Associate Vice President for Marketing and Communications. "We opted for a guided experience that allows visitors to identify themselves and their interests in two easy drop-downs. From there, each student receives a tailored website experience."
"This was most important for non-traditional students, who are now directed to the information that is important and relevant to them—tuition, academic programs, and start dates for online, hybrid and accelerated classes—without having to sift through information on residence halls or campus dining that might be important to traditional students," Brown says.
Make it Personalized — at Scale. Given their diversity of needs, adult learners may be the least monolithic segment higher ed marketers deal with. That's why so much of the discussion of concierge models in higher education seems to focus on non-traditional students.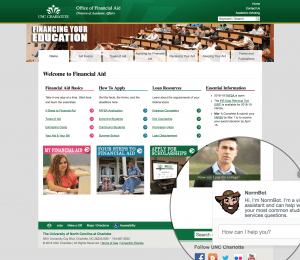 Unless you're capable of infusing Amazon levels of personalization in your website, consider using chatbots to help each of your visitors find what they're looking for.
Put yourself in your customer's shoes: Would you want wait on hold and then be stuck on the phone providing somewhat personal information about your lifestyle needs to someone you don't know? Or would you prefer to share accurate and insightful information when you had time to think and weren't feeling pressured to answer right away?
Chatbots can feed valuable insights back into your customer relationship management (CRM) systems while scaling across your social media channels and dramatically reducing the staff time needed to respond to student inquiries.
2 – Go Where Your Students Are – via Social Media and Geo-Fencing
Facebook, Twitter, LinkedIn, Instagram, Snapchat, Reddit and other social platforms each offer a different way to flesh out a prospective student's picture of your school. Each platform also provides ways to diversify your brand voice while effectively maintaining ongoing focus groups. There are a wealth of best practices for each platform specific to higher education, and a wide array of social listening and monitoring tools that consumer brands have used for years to gauge customer sentiment.
Regardless of the strategies you adopt, or what content you choose to push through which channels, remember that social media is fundamentally a conversation, not a marketing megaphone. So keep in mind what it takes to be a good conversationalist — such as being interesting, curious, fun, authentic and relevant.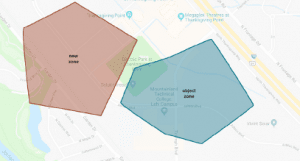 Unless you're an elite school (and usually even if you are) college recruitment is largely a regional, local and even hyperlocal game — particularly with adult learners. Mainstream in digital marketing for several years, geofencing enables marketers to engage individuals with text messages, app notifications or mobile digital ads as they enter, remain within and leave a defined geographical area. College recruiters have been using the tactic at recruitment fairs, community college transfer days, local businesses, on-campus events and more.
Randy Canivel, director of Midwestern State University's Flower Mound (Texas) campus, says geofencing has been effective in driving enrollment for his campus' nursing and respiratory care programs.
"Simply stated, you can pay a vendor to digitally 'fence' any facility or structure where potential students might convene," he says. "For example, we specifically target hospitals that we will be speaking or presenting to for 24 hours pre-and post-event. When a potential student pulls out their cell phone to search for a school, we come up on their search engine or on Facebook."
3 – Show the Career Benefit of the Curriculum
While everyone loves the notion of lifelong learning, most adults returning to college or universities are keenly focused on improving their career. As you describe your programs also list the curriculum and articulate how these courses translate beneficially to the workplace. You may even want to list typical job titles related to the degree programs (this can be an especially important tactic when marketing to MBA students).
In Texas, this isn't optional: the Texas Higher Education Coordinating Board's 60x30TX strategic plan, which sets a goal for 60% of Texans to have a postsecondary credential by 2030, "charges two- and four-year public institutions in Texas with documenting, updating, and communicating the skills students acquire in their programs" in its "Marketable Skills" section.
Mount Aloysius College's academic major pages, like this one for Medical Imaging, offer information on potential job descriptions, career locations, projected job openings, and median wages for the field.  The College's Institutional Advancement Office compiles this information while providing data on where alumni are working.
"With this information, prospective students are able to get what they are looking for without leaving the College's website," says Matthew Bodenschatz, Mount Aloysius' director of graduate and continuing education admissions.
4 – Make Financing Frictionless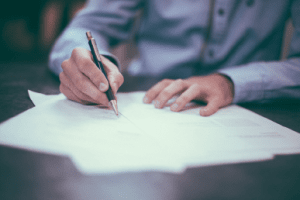 While some employers will reimburse part or all of the tuition for related degree work, many working adults are self-funding or relying on loans. They are going to need clear direction to your website's financial aid resources. Help them with the Free Application for Federal Student Aid (FAFSA) application, which is especially important for first-generation learners. Direct them to available grants and scholarships.
Provide rich resources on your website that can independently coach them in how much aid is the right amount so they can borrow enough, but not too much. Most importantly, be sure your cost per credit hour is clear and apparent for each program. If you offer flat tuition or tuition discounts, consider giving that significant presence.
In our previous installment, "Five Questions Adult Learners Are Asking," we spotlighted the problems with net price calculators, but we'll reiterate how crucial it is to make sure the data behind them is up to date and accurate. It's also important to strike a balance here: the calculator has to gather enough information from the prospective student to produce a directionally accurate estimate of what types of aid, and how much, are available. And any visitor who's willing to provide this information is likely very far along the decision path and highly engaged. But don't abuse that engagement by forcing them through an overly long questionnaire.
A note on Community Colleges: Pathways from community colleges to four-years can be notorious obstacle courses — both for students, and for the administrators and faculty trying to clear those pathways. But, if you're a four-year institution with good community college relationships and well-adhered-to articulation agreements, you're at a gigantic advantage with an adult learner segment that can be low hanging fruit for student success. Arizona State's transfer students resources page includes a transfer credit guide designed to help prospective ASU transfers to figure out where they'd be coming in at and to minimize excess credits, which can jeopardize financial aid eligibility. Midwestern State in Texas provides course equivalency listings for over 50 area colleges.
5 – Tout Your Services and Support
In addition to financial aid to pay for tuition, adults entering college today often face other daunting financial challenges. NPR recently shared survey results showing the rates of homelessness and hunger among college students is greater than previously thought. The survey sample includes more than 33,000 students, at 70 community colleges in 24 states and researchers. Among the findings: "We estimate that 63% of parenting students were food insecure and almost 14% were homeless, but only about 5% received any child care assistance."
Food banks for students, child care facilities that offer free or discounted care, discounts on transit all matter for adult students trying to gain education to improve their lives. Support extends well beyond the classroom when dealing with adult learners.
6 – Deliver Flexible, Portable & Accelerated Learning Options
This is one of the most critical offerings in adult education, and one that many websites don't play up to potential. Let them know you offer many ways to learn and earn a credential. Make it easy for prospective applicants to see which programs are offered fully-online and which are hybrid or on ground.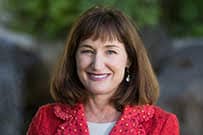 Southern Utah University provides a prime example of this easy-to-read format. Launched in March 2018, SUU's programs page lists the delivery method of all of the university's programs.
"This newly launched page represents at least a year of work, says Ellen Treanor, SUU's executive director of brand strategy, "but it makes finding a program much easier for adult learners."
In part two of this series, we'll talk more about accelerated formats, transfer credits, advanced placement and prior learning assessments. Any options you can offer adults to use their existing knowledge and expertise to speed their time to completion, such as through Prior Learning Assessments, should be dominant on your web pages. Again, remember they are not looking for easy classes, they are looking for classes that are easy to access and the opportunity to finish as quickly as possible.
"At Midwestern State University we offer a general studies program (Bachelor of Applied Arts and Sciences) that allows for a student who has the vocational, technical, or military work experience to have this translated into credit hours," Midwestern State's Canivel says.
Canivel says Midwestern State uses the American Council on Education's College Credit Recommendation Service to validate whether these experiences can be translated into college credits.
7 – Train Empathetic Support Staff to Respond in a Timely Manner
Administration and faculty profiles, open letters, and meetups can be powerful ways to convey that your institution is powered by human beings committed to reaching and teaching adults. Are there friendly faces they can reach out to with questions? Have staff been trained in how to assist adults? We'll take a deeper dive into veterans affairs in part two, but for this group especially, ramp up some support staff to be experts so they can assist with the myriad questions each returning vet will have. It bears reemphasizing that empathy starts with the images you use on your site as well as your social media. Do you have a special section for adults or have you mixed photos of adult learners into your images? If all the prospective student sees are images of 18 to 21-year-olds in groups (like so much of the clipart portrays) they may not relate to you and move on.
8 – Bust Through Bureaucracy
Take a keen look at the tone and language on your site, and ask whose language you're speaking — yours or theirs? Higher ed's lexicon is filled with acronyms and jargon that hold little meaning to incoming students, and can even alienate them. A student who is first in their family to earn a college degree may not understand terms like 'matriculation' or processes that involve Registrars or financial aid. Mentors and coaches that help students as early as application can help get busy adults on track and keep them on track. A timeline on your site that shows each step of the application through enrollment process, and where your enrollee is in that process, can be a powerful confidence-building tool as well.
9 – Share Student Success Stories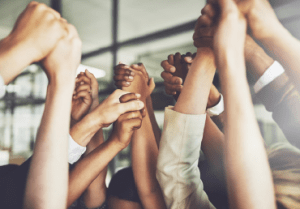 Who doesn't read a review before deciding to spend money these days? Highlight your student successes through your student voice. These can be profiles on your site, quick videos prospects can move through, or simple photos with quote-out testimonials. For adults reluctant to make the leap, seeing others who did and were successful is motivational. Western Governors University provides an example like this one, of capturing emotional videos and stories of these students speaking at commencement about overcoming hardship on their way to success are powerful marketing tools to other adults and help build a grit and tenacity mindset early. 
Mount Aloysius College recently began an alumni profile series, which is consistent from the walls of its academic buildings, to prospective student emails, to its website academic major pages.  Profiles are short, but packed with information on recent graduates who have made quick transitions from Mount Aloysius student to professional.  Students profiles include those who completed undergraduate or graduate programs and those who entered college directly from high school, those beginning college after years away from high school, or who are returning for a second or even third degree.
10 – Compete with Big Brands by Playing to Your Strengths
Sure, the football schools and the Ivys have immediate name recognition, but that doesn't mean you can't compete. Don't play Goliath's game if you're David. Talk about your caring faculty in smaller classrooms. Talk about personalized learning or portfolio assistance. Got an innovative corporate partnership to support the curriculum of a degree program in a hot area like data analytics or cybersecurity? If not, consider forging organizational partnerships to increase adult student enrollment for your programs.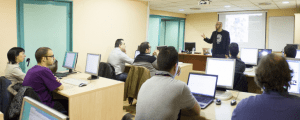 Share any work you're doing to build learning communities so students don't feel lost in a large sea of students. Are 100% of your computer science grads employed at great jobs in one year? Talk about it and show their stories. Always talk about your accreditation.
For example, Arizona State University's ASU Online program lets adults know they are getting access to the same expert faculty online that they get on-ground while benefiting from the flexible format. No wonder the average age of students there is 29 years old.
Bonus – Customize and Personalize your Messaging  
This takes us to the longer play of not only reaching but also successfully recruiting adult learners. They aren't just a name and ID in a student information system. Think CRM – customer relationship management. What are you doing to continue to interest them as they shop around? Are you reaching out to check their progress with financial aid? Just as you looked at the tone and messaging on your website, give the same scrutiny to your email or text (or phone) outreach to be sure you are as personal, friendly and supportive as possible. Also, work to reduce response time to 24 hours whenever possible. They are likely shopping several institutions. Timely responses can be the difference in who they select once they find several good fits.