Reaching the New Normal, pt. 2: Five Questions Adult Learners Are Asking
Editor's Note: This is the second in a multi-part series focused on attracting, enrolling, retaining and graduating adult learners. In the previous installment, we looked at the adult learner market — its size and growth potential, what's motivating adults to consider returning to college, and the logistical challenges they face. Here, we address five key questions on adult learners' minds. Later, we'll explore ten ideas institutions can use to attract these learners. We've compiled these posts in an eBook that you can download and share with colleagues.
Five Questions Adult Learners Are Asking
Previously, we explored the demographics and motivations among prospective adult students. We're going to go a layer deeper to explore what questions adult learners have and what they want in a college or university, along with some suggestions for how to respond. We hope these insights will help your institution to attract and better serve them.
---
[bsa_pro_ad_space id=10]
---
The research points to five predominant concerns:
Is this program flexible enough in time and location to fit my life?
Flexibility and cost are key. Generally, the institutions that appeal the most to this wave of students are those that offer online, weekend, evening, and hybrid learning environments that provide students with flexibility and portability in their studies. Credit for prior learning or experience is vital as well, as it creates real momentum for a student population that struggles the most to overcome the confidence gap. It's important to distinguish here that adult learners are not looking for easy classes, they are looking for classes that are easy to get to, be it on ground or online.
"Adult learners are seeking the fastest way to earn their degree," says Dr. Amy Gaimaro, Dean of Innovative Delivery Methods at Molloy College. "This is why we expanded our prior learning credit program allowing learners to gain college credit for learning accomplished outside of the traditional classroom. The benefits of a prior learning credit program include shortened time to degree, lower tuition costs, and accelerated academic progress."
This explains why it's also important to forge organizational partnerships to increase adult student enrollment, which entails offering on-site programs that are convenient for adult students employed at such organizations.
Can I afford it?
In the Champlain survey, 75% of respondents who said they were not going back to school explained their decision by saying they didn't want to be "burdened with student loan debt." Similarly, 70% said they're not returning to college because they "can't afford it."
In a paycheck-to-paycheck household, "Can I afford it?" is a fair question to ask. Higher ed's response would be, "Can you afford not to?" Education Pays, a massive report from the College Board, devotes 35 of its 44 pages to the career and economic benefits of a college degree. It notes that "[i]n 2015, median earnings of bachelor's degree recipients with no advanced degree working full time were $24,600 (67%) higher than those of high school graduates."
Before we can talk to students about grants, loans, and stipends, we must first reframe the cost discussion as an investment discussion. That's a significant theme that has to be woven throughout all of your institution's marketing messages. It also means talking about career outcomes — not just with numbers (there is no average student, after all), but with people. A prospective student wants to see people like her who made the same leap she's considering, graduated and vaulted into fulfilling careers.
---
Looking to increase adult student enrollment?
[bsa_pro_ad_space id=9]
---
Some working adults may benefit from employer-paid tuition support. One way to help attract and serve adults is through employee partnerships that subsidize tuition or offer tuition reimbursement programs. Many corporate HR professionals will tell you that millions of dollars earmarked for employee education go unspent every year, in part because no one knows to ask for it.
However, many adults are self-funded and will need information on grants, scholarships, and the often obtuse financial aid process. Attempting to make college affordability more transparent, Congress in 2011 required institutions to post net price calculators that incorporate account grants, scholarships, and various aid packages to give prospective students an up-front picture of what their costs will be. However, many colleges bury these tools in their websites — alas, for good reason, as we'll explain.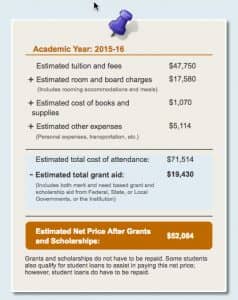 Net price calculators' accuracy can vary widely due to how individual colleges design them, how current their data is, and more. The difference between calculator estimates and actual costs for many families can be as little as $500 or as wide as $5,000. That disparity may not matter much to traditional students, especially those with family backing and price insensitivity for their dream schools. But it can be a show-stopper for prospective adult students. In addition to making your net price calculator easy to find, make the data behind it is up to date and accurate, or you'll leave yourself open to accusations of bait-and-switch.
Our friends at Edmit provide prospective students a wealth of resources on college affordability from the student perspective. Here's a snippet of their advice to students on net price calculators:
There is no standardization across different colleges' net price calculators, so your comparisons may be apples-to-oranges based on respective school criteria and the financial/academic information you're asked to submit.
Lynne M. Lander Fleisher, Clarion University's director of online programs, also recommends that you make it clear to students prospective students that, when they call your financial aid office, they make it clear whether they're interested in a non-traditional credential, such as accelerated, online, continuing education, etc.
"You need to tell the advisors that you're an online student so that the advisor will be on the same page as you," Fleisher says. "Advisors usually give the information for traditional students first, which online students aren't."
Does this institution have what I want?
In addition to listing the degrees, it's a good idea to list the curriculum that provides the career relevance of the courses. For example, after listing the courses, a paragraph or video from your faculty speaking to how these courses can be beneficial in the workplace could speak volumes to students deciding on pathways and programs.
Will this degree be respected?  
You don't have to be Ivy League to distinguish yourself as respected and accredited. Yes, the big-name schools have an advantage going in. Testimonials from graduates (like this one from Mount Aloysius College) and employers are very useful in conveying the credibility of your credential. When competing with well-known institutional brands, understand and play to your strengths. This is where guidebooks like Colleges of Distinction and Abound can help students break through the vast marketing noise to find the right fit in an institution deeply committed to serving them.
Can I be successful?
Services are key here. Enrolling at an institution entails being steered toward several offices and departments, making sense of different answers about how prior credits will transfer or apply to a major, and more. For someone already anxious about not having taken an Algebra class or written a research paper in over a decade, the typical enrollment labyrinth is hardly a salve.
---
Looking to increase adult student enrollment?
[bsa_pro_ad_space id=9]
---
Let them know help is available and emphasize personalized learning and support, as well as extended hours for chat, email, or face-to-face support. Be sure to emphasize tech support along with your academic support. Let them know you'll be with them each step of the way from the application for admission to the application for graduation.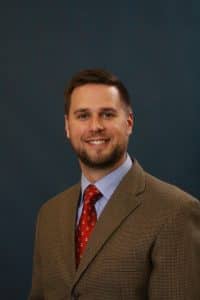 "At Mount Aloysius College, our Admissions Office serves as the one-stop shop for prospective adult, online, and graduate students," says Matthew Bodenschatz, Mount Aloysius' director of graduate and continuing education admissions. "The office is open during standard weekday business hours, but also into the evening upon request, an option made clear to all prospective students during the process."  
Mount Aloysius' Admissions Office also arranges visits with academic department representatives, financial aid counselors, and billing specialists.
To ease the stress of this process on adults, many institutions are adopting a concierge model, in which a single point of contact at the college helps adult students navigate the application, enrollment, and registration processes and overcome barriers to college success.
"Adult learners also do not have time to wait on the phone or stand in line for an answer to a specific question," says Randy Canivel, director of Midwestern State University's Flower Mound (Texas) campus. "For example, we have a Student Services Coordinator who is our student advocate and assists them with all facets of applying, enrolling, and paying for classes. Some schools have a team of people that register, enroll, and pay (via your funds) for your classes."
It's no coincidence that these factors overlap with Abound's Four As rubric for recognizing top adult-serving institutions: Accessibility, Affordability, Acceleration, and Advancement.
Now that we know more about adult students and what they want, we'll discuss how you can be more competitive in attracting adult students to your institution. Stay tuned for our next installment, Ten Marketing Tips for Attracting Adult Learners.
We've also published a new eBook, "Reaching the New Normal: Understanding Adult Learners and Attracting Them to Your Institution." Download it here:
Download the "Reaching the New Normal" eBook