Three Ways to Adopt Content Marketing for MBA Programs
/
Abound and Colleges of Distinction
Most of us know by now how important content marketing is to convince your audience of the value of your institution as a whole. And this is no different when it comes to your MBA program. The market continues to be saturated with all types of MBAs on offer, and so it's important to do everything you can to differentiate your own. The good news is that this is where a robust content marketing strategy can serve you—and your MBA audiences—well.
That's why we've provided three approaches to content marketing for MBA programs to help you reach more prospective students and increase program enrollment.
---
[bsa_pro_ad_space id=10]
---
Make Written Content Your Bread and Butter
There are a number of ways to provide content to help prospective MBA students understand the value of your program, but one of the easiest, cheapest, and most effective ways of doing this is to write content in the form of a blog, white paper, or ebook. While audiences may not be willing to sit down and read dozens and dozens of pages of written content, they will certainly be willing to read a series of blog posts or white paper if the content is well written, educational, and valuable to them. This is good news, since you can more cheaply produce a blog article or white paper than, say, a podcast or video series. 
However, this doesn't mean you can sacrifice quality. While it can be cheaper and quicker to produce written content, it still requires skilled and compelling writing. It's a mistake to assume that anyone who can string sentences together can easily knock out a blog post that will capture your audience's attention. It's certainly worth trying to recruit a diversity of voices (admissions counselors, faculty, alumni, current students, etc.), but strong writing and editing is key to ensure the content actually speaks to audiences and is aligned with your brand.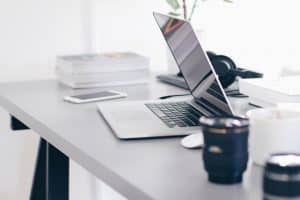 The MBA Blog from the business school at the University of Navarra is a good example of what your written content marketing efforts might look like. It includes articles that provide tips on applying to the school as well as detailing what current students and alumni are doing professionally. This provides a good way for prospective students to get a glimpse of what life might be like should they attend. For another example, check out UC Davis's good-looking blog that hosts a series of content that, again, helps paint a clear picture of what attending the school might look like for prospective MBA students.
Shifting away from blogs, the University of Cincinnati provides a robust career guide, which offers information for individuals looking to land a new job and move forward in their careers. The guide covers tips for professional communication, developing a network, applying for jobs, interviewing, and job offer etiquette. Something like this is a great way to provide your audience with valuable and helpful content that they can use regardless of whether they ultimately earn an MBA. UC does a good job of demonstrating a willingness to help audiences professionally, giving it a potential leg up over other schools.
---
[bsa_pro_ad_space id=9]
---
Become a Multimedia Publisher
If you have more resources and time to invest in your MBA content marketing efforts, then it's worth diversifying your content in ways beyond copy and design, such as with podcasts series, webinars, videos, and more. In other words, becoming a multimedia publisher might be worth your while.
Similar to your written content efforts, it's important that you have the necessary skills and capacity to produce high-quality multimedia content. A shoddy video about a faculty member or a boring and poorly recorded podcast series is not going to do your MBA program any favors (in fact, they could hurt its perception with audiences). That's why it's always important to be honest about what you can do well today, tomorrow, and a year from now. It's fine to strive toward launching a podcast, for instance, but if you don't have the capacity to do it today, then it's better to devote time to more feasible content efforts while slowly working toward launching a podcast series when you're ready.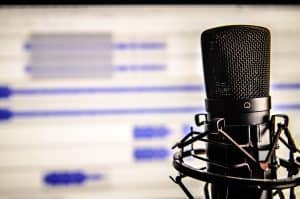 But if you are in a place where you can explore some other content formats, then you can serve your MBA program in substantial ways. While you're most likely not going to have the resources that Harvard Business School does, it's worth highlighting the multiple podcasts that it offers, which cover topics including women and the workplace, the crossroads of business and culture, and business leader advice. On the video front, check out Southern New Hampshire's series of videos under "MBA Career Outlook" to get a sense of how you might put videos to work in your content marketing efforts.
Become an Educator With Your Content
Some of the greatest assets that you have as an institution of higher learning are the resources available to educate and teach your prospective students. You have recourse to accomplished faculty and successful alumni, and so it can be a great idea to pool this expertise and provide more education-focused content in the form of a class or workshop. In other words, you can offer prospective MBA students access to a free test prep course, a workshop on interviewing, a lecture on modern-day business practices, and more.
---
[bsa_pro_ad_space id=9]
---
While you can (and should) offer education through the approaches discussed above, it might also be worth providing actual curricula in some cases. We've written about this strategy in detail and, if done well, it can pay off in huge ways. Of course, offering a free GRE/GMAT test prep course or a free course on networking does not require a small effort. You will need to find an instructor, provide course material, and find a location at which to host (if you're offering the free course or workshop in person and not just online), all of which require financial costs. 

Further, you will need to make sure that you have a lead strategy in place. How will you market to attendees both during and after the course? What type of email lead-nurturing campaign will you develop? How will you measure the percentage of students who take these courses and also become applicants? While the cost of doing this will likely be greater than offering a blog series or a handful of videos, it's worth seriously considering this strategy because of its upside.
This is partially because it gives you a chance to highlight the type of quality instruction that your institution provides. It allows prospective MBA students to develop a relationship with the professor of the course as well as a representative of your school (you should have a counselor present during some of the classes to market the program in person and be available to answer questions). Ultimately, it gives your program a face and helps solidify your school in prospective MBA audiences' minds when they are ready to apply to schools. Despite the higher costs, if you can get two or three people to enroll in your program from a single workshop or class, then it will most likely be worth it.
---
[bsa_pro_ad_space id=10]
---