How to Market Career-Boosting MBA Relationships
/
Abound and Colleges of Distinction
Prospective students will be more likely to consider your MBA program if they believe that it will be both personal and personalized. And one of the best ways to assure them is to make it clear that your program comes with opportunities to form meaningful career-boosting MBA relationships. Whether those be with current students, alumni, faculty, or admissions counselors, the more you can clearly communicate the relational value of your program, the better.
We've highlighted three major areas in which prospective students are looking for career-boosting MBA relationships as well as why and how to single them out in your marketing to MBA students.
---
[bsa_pro_ad_space id=10]
---
Mentorships Matter
Some of the most important benefits of an MBA program for students are the opportunities to receive professional guidance, insight, and expertise from those who have gone before them. It's crucial not to downplay the importance of these relationships, as they can be a deciding factor for students as they seek to make substantial changes in their careers with the aid of an advanced business degree. 
Seattle Pacific University does a good job of highlighting this type or relationship with its Mentor Program on a clearly designed webpage. Not only does the page provide information about how exactly the program functions, but it also provides a clear outline of how students can get involved. It also features several subpages to detail the nature of the program: Before You Find a Mentor, Mentor Program Tracks, and more. It even has a page dedicated to student stories related to the Mentor Program, which is a great way to show why career-boosting MBA relationships like these are so important for students (and, therefore, why prospective students can count on having access to them as well).
As another example, the City University of New York's Zicklin School of Business offers a well-designed and clear call-to-action to learn more about its Executive Mentoring program. The university provides clear and concise copy to explain what the program entails as well as a compelling video to foster student interest. Practices like these effectively relay both the existence and importance of your mentorship program for prospective MBA students.
---
[bsa_pro_ad_space id=9]
---
Highlight Access to a Strong Professional Network
One of the biggest perks of any MBA program is the opportunity to network with other professionals and build a professional web of relationships that, in some cases, can last the entirety of individuals' careers. The old adage, "It's who you know," certainly has some truth to it, which is why it's necessary to make clear the type of robust networking opportunities that will be offered through your MBA program.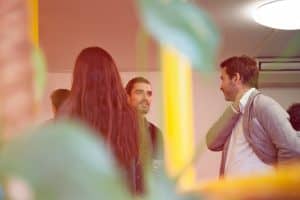 Boston University does a great job of detailing how students might be able to take advantage of its vast alumni network after they graduate (or even while they're still in school). While this specific webpage is aimed at alumni, it can still serve to entice prospective students. It also features an Alumni Map, which operates as an interactive tool to help students and alumni find other BU alumni near them, no matter where in the world they are. This is a great example of incorporating easy-to-use technology and good UX to relay how BU fosters professional networks for its students and alumni.
TCU's stands as an example of how to clearly list all of the different types of networking events available to students on a single page, events like Executive Speakers, Employer Roundtables, Investment Strategies Conferences, National Career Fairs, and more. It also links to a video at the bottom of the page featuring a large MBA alumni reconnecting event. While it's true that the design and layout of the page could use some work, it does provide a good example of how to concisely and clearly detail all of the types of networking events that your school has to offer in one easy-to-find place for prospective students.
Connect With Them From the Start
While it's important to make it clear that students will have an opportunity to form certain relationships through networking and mentorships when they are actually in the program, it's a good idea to try and establish relationships with students while they are still prospective. 
---
[bsa_pro_ad_space id=9]
---
A great way to do this is to encourage prospective students to connect with current students or alumni to learn more about the program. It's one thing to hear about the benefits of your MBA program through a video or copy on your website, but it's another thing to hear about them through a one-on-one conversation with someone who can speak about the intricacies of the program (and someone who, not too long ago, was in that prospective student's very shoes).
Washington University in St. Louis provides a compelling way to do just this through a list of student ambassadors with whom prospective students can connect. In fact, it also provides a way to toggle between students from different areas of interest: Consulting, Corporate Finance & Investment, Entrepreneurship, and Marketing. Its list of students is also nicely formatted, including a professional headshot, some basic background info, and an email address for each ambassador.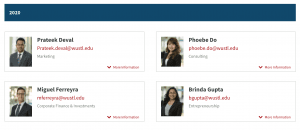 Even if you can't have current students or alumni connect with prospective students, it's important to make sure that prospective students can easily connect on the phone or in person with admissions counselors and faculty. Whether your school offers MBA info events, monthly coffee hours to field questions, faculty luncheons for prospective students, or simply the space to field calls and answer questions in a friendly and hospitable manner during the MBA admissions process, an MBA program with a "face" is more likely to be on prospective students' radar when they're actually ready to make their choice.