When Should You Take the GRE?
If you're researching the requirements for different graduate school programs, you've likely read about the GRE. This entrance exam is one of several elements necessary for admittance into graduate school. Similar to the SAT you took in high school, colleges weigh GRE scores differently, and the average score they each accept will vary.
There are several factors that contribute to when you should take the GRE, such as how much time you need to study, the program's deadline for submitting your scores, and whether or not you will need to retake the test. We want to unpack each of these questions so that you can make the best decision for yourself. 
One thing to keep in mind at the beginning of this process—especially if you are fresh out of undergraduate school—is that your GRE scores are valid for five years. So even if you're not quite ready to apply to a program, you may want to take the GRE while the information is still fresh.
How much time do you need in order to prepare?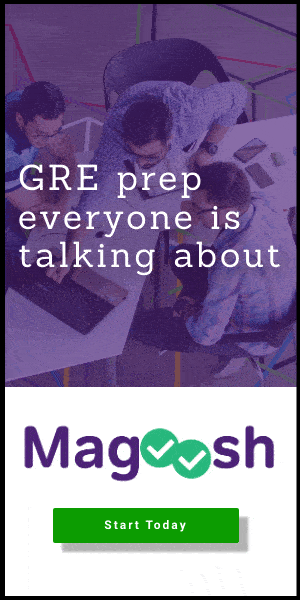 This question is tricky, but the answer is important. To be on the safe side, you should give yourself approximately two months to study if it's your first time taking the GRE. The GRE is offered three times a year in September, October, and April. For 2022, the test date is April 09, 2022. The application deadline is March 04. 
If you are going back to school after taking a break upon finishing undergrad, you may way to add another month to catch up and refamiliarize yourself with some concepts. 
Another factor to consider is how long you'll be able to devote to your studies each day. For example, you might want to consider putting aside two or three months to prepare if you work full time or are at home caring for children during the day and can only devote a bit of time to studying on the weekends. But if you can spend a few hours studying each day, you may not need more than a month to be ready for the test. 
When are your scores due for submission?
Some programs will require that you submit your GRE scores before the actual program applications are due. No matter what, it is very important that you are aware of both deadlines. It takes about two weeks to get your scores back after taking the exam, so you want to make sure you take the test—at the very least—two to three weeks before the score submission deadline. And don't forget that different schools have different deadlines, so be sure to take the GRE in time to meet the earliest one. Plan accordingly! Most submission dates are in the late fall. 
Are you still deciding where you want to apply? abound.college has a vast selection of great schools with details about each one. Check It out to help narrow down your choice and, of course, figure out your admissions deadlines!
Do you need to retake the GRE?
Should time and finances permit, you may want to give the GRE a few tries in order to get a score with which you are satisfied. If this is the case for you, add a month to your base timeline. You can only take the GRE once every three weeks, so a full month will provide the necessary waiting time (plus a little bit of a buffer to make sure you really understand the areas in which you need to improve). Most people do not need to retake the GRE more than two times, if at all. 
Putting It All Together
Every student has different studying and test-taking habits. There isn't a magic formula for everyone, but if you follow these general principles, you hopefully won't feel as overwhelmed or frantic about trying to decide when to take the GRE. 
Carefully consider how much time you'll need to prepare based on how much time you can dedicate to studying every week. You'll also want to weigh in the deadlines to submit your scores as well as whether you need to leave some wiggle room for a retake. Once you decide on a time frame that works for you, you will be well on your way to success with the GRE. And if you ever need additional help as you navigate your grad school search, always remember that Abound has the expertise to help answer any questions along the way.
More About Abound: We're here to help. Abound: Grad School narrows down your options and gets you in touch with schools that we can confirm are Accessible, Affordable, Accelerated, and Advanced. Take a look at the schools we trust and find the program that works for you.
More Helpful Guides:
Ways to Afford Grad School as an Adult Student
How Many Grad Schools Should You Apply to?
How to Find the Right Graduate School