Helping Fort Hays State University Double Graduate Enrollment
Abound helps universities and colleges attract and serve adult students most likely to thrive in their program. It's this mission that enabled Abound to play a significant role in doubling graduate enrollment for Fort Hays State University (FHSU).
"The fact that we are seeing an increasing number of applications, again at a time when across the country apps are down, is a strong indicator that our membership with Abound is fruitful and that it's helping."
Dr. Jennifer M. Bonds-Raacke
Dean of Graduate School at Fort Hays State University
FHSU's Enrollment Goal for Its Graduate Programs
FHSU's aim is to grow enrollment of adult graduate students by marketing access-oriented hybrid and online programs in order to meet the needs of an adult population looking for educational opportunities to advance their personal and career goals. While FHSU is committed to meeting the needs of the citizens of Kansas, they are equally committed to serving individuals across the country and the world, preparing them to be lifelong learners and engaged global citizens. With such an aim, FHSU recognizes the need for effective and innovative marketing strategies to attract prospective students in the adult market.
The Challenge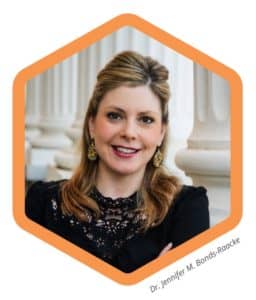 Like every other institution in higher education without limitless financial resources and a "top-25" brand name, it's become difficult for FHSU to maintain and grow enrollment, especially in new graduate programs that serve an older and non-traditional adult population that hopes to advance in their career with an education that is flexible and affordable. In the past, FHSU had enjoyed an overall lack of competition for its online and hybrid graduate programs. As more and more brand-name institutions enter the market, however, their need for strong and effective marketing strategies became—and continues to become—ever more important. What's more, FHSU's marketing department has been in transition, leaving the graduate program without all of the necessary resources to market their programs effectively.
Dr. Jennifer M. Bonds-Raacke, the dean of the graduate school, was desperate for effective and feasible ways to market FHSU's graduate programs and grow enrollment, especially since she had limited time and resources to devote to marketing. It was simply out of her reach to develop a marketing strategy while also having to oversee over 350 graduate faculty, review all changes to policies and procedures related to graduate programs and their curriculums, and serve on committees. Dr. Jennifer Bonds-Raacke needed a marketing solution that was effective yet neither time intensive nor financially costly.
The Solution
FHSU inquired about Abound's membership process, where schools are evaluated based on their commitment to engaged learning, academic integrity, available services to students, flexible and accessible offerings, and much more. In time, FHSU was evaluated and accepted as a quality institution committed to serving adult students, subsequently gaining them access to Abound's many resources, including third-party endorsement insignia, marketing collateral, content marketing articles and white papers, press releases, and access to an experienced and knowledgeable marketing team with whom to collaborate on marketing and strategy efforts. Unlike other ranking systems that favor "top" programs with domineering brand names, Abound provided FHSU with a holistic and values-focused evaluation that resulted in membership for an affordable price.
"Now that bigger-name universities with name recognition are entering the field, we are at more of a disadvantage. And so we have to be intentional in a way that we've never had to be before. I really felt like Abound got what we were doing. I felt like they appreciated our mission in a way that I am not sure everyone else does. I was also really pleased to see that being a member of Abound was something that fit within our budget."

Dr. Jennifer M. Bonds-Raacke

Abound provided FHSU with the following through their membership:
Badges of Distinction
FHSU was given digital badges to place on their marketing material and website in order to communicate to prospective adult students the value and quality of their programs with the help of an important third-party endorsement. Instead of merely telling prospective students about the quality of their programs, FHSU is now able to provide third-party validation and a "reason to believe," which aids to convince prospective students that FHSU's graduate programs are respected, legitimate, and a good fit.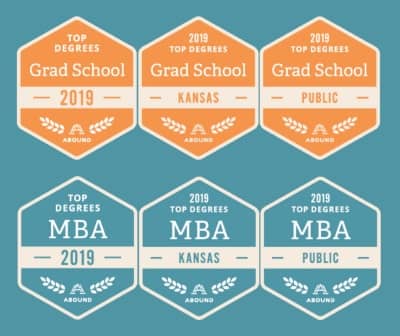 Content Marketing
Abound provided content marketing material that featured reasons why an adult student should go back to school to pursue a master's degree. FHSU was able to promote this content through a Facebook marketing campaign, providing prospective students with valuable content during a decision process that can often take six months to a year (or longer) and thereby aligning with content marketing best practices.
"Instead of just following up with prospective students and saying 'Here is what we're missing from your application,' we were able to provide an article from Abound with reasons to pursue your master's degree. We know that prospective students really like to get something, whether it's an article or a webinar."
Dr. Jennifer M. Bonds-Raacke

A Robust School Profile on Abound's Website
FHSU was given multiple school profiles for their various graduate programs on Abound's website, exposing their university to prospective students who use Abound's website to find quality programs that fit their specific academic and professional needs. This not only provides greater exposure of their programs, but also incorporates the third-party endorsement of Abound to further strengthen their reputation.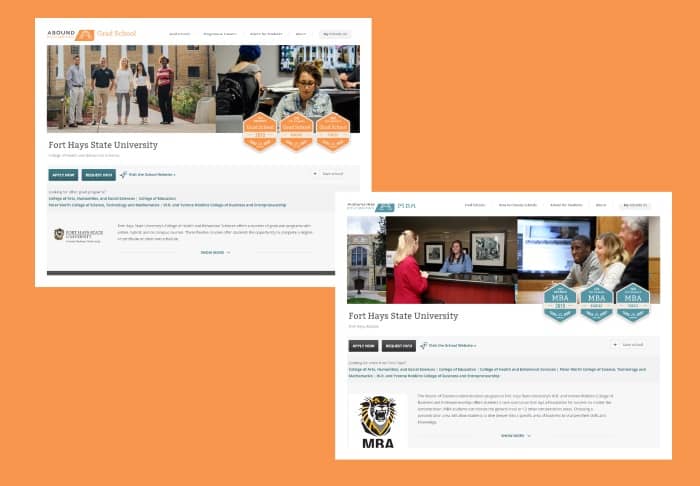 Enrollment Marketing Material
FHSU was able to reach prospective students with Abound-made print marketing material, supporting themselves during a time when they lacked internal marketing resources while also providing a form of marketing that, via a third-party endorsement, signals the programs' value. These materials were customized for each graduate program and then distributed to prospective students at recruiting fairs, academic conferences, and on FHSU's campus to create more awareness for specific programs.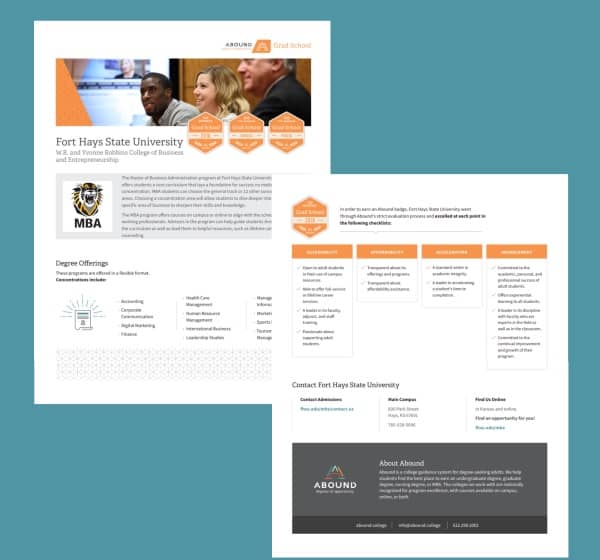 Access to Enrollment Experts in Higher Ed Marketing
FHSU had access to a committed staff of expert marketers familiar with higher education and the adult student market. Abound collaborated with FHSU to devise marketing strategies to meet current enrollment goals as well as plan innovative marketing ideas for the future—the resources and expertise of which can be hard to find on a college campus fixed to old and less-innovative marketing practices. They discussed the importance of launching micro-credentials as well as new campaign ideas, including the reformatting of their website profiles to facilitate clearer marketing to prospective students. Similarly, Abound suggested and helped FHSU customize their own marketing material by specific program for the same effect.
"Abound has an exceptional staff, and I wish I could steal them! I can't think of a time when I had to wait more than 24 hours to get feedback from a staff member, and what I really enjoy is that Abound's staff is so innovative. It's great having that resource outside of the institution that provides more of a national perspective on higher ed and can connect you with that landscape."

Dr. Jennifer M. Bonds-Raacke
The Result
FHSU doubled its enrollment from the summer of 2016 to the summer of 2018 and continues to see growth. In conjunction with other FHSU initiatives, Abound's offerings, services, and partnership have played a key role in this kind of spiked graduate enrollment that is otherwise uncommon in the industry of higher education.
"I think it's really important to be true to who you are in your mission and to make sure that your marketing efforts align with your mission. For me, Abound offered a way to market our programs while staying true to who we are as an institution."
Dr. Jennifer M. Bonds-Raacke
Abound's mission is simple: connecting adults students to the right school by helping colleges and universities gain the recognition they need to be successful. Abound's team has been working in higher education since 2000 to help prospective students find schools that are truly a good fit for them while helping great institutions gain the distinction and visibility they deserve.