The Importance of Marketing with Authority
/
Abound and Colleges of Distinction
This is the second of seven articles in the "Are You Making This Fatal Mistake with Your Higher Ed Marketing?" series, detailing how to elevate your school's brand in the minds of your audience using a proven and easy-to-follow framework that puts them at the center of your brand's story.
In the previous post, we explained how important it is for your school to demonstrate empathy—that you understand and "feel for"—your audiences. In this article, we'll review the second and equally necessary characteristic of a good brand: authority.
What is Authority in Marketing?
Once you have convinced an alum, prospective student, faculty recruit, or community stakeholder that you understand and care about their needs and desires, they will want to know if you can help them do something about them. Even if your marketing material already tells your audience that you have just the right service or opportunity for them, no one will believe you if all you're doing is telling them; you have to show them, too.
As Donald Miller explains in Building a Story Brand, conveying authority is how you demonstrate to your audience that you have the expertise and capacity to solve their problems or help them meet their goals. Your audience isn't looking for a school to only empathize with them, but one that can also help them.
Authority in Practice
Since every school's marketing story claims that they have the perfect program or fundraising initiative, demonstrating real authority—not just talking about it—can give your school a major edge. One organization that is particularly great at this is the successful email marketing service Mailchimp, whose brilliant story conveys how they truly "get" email marketing. Not only do they offer email marketing resources, which include tips, guides, and tutorials, but they also feature customer success stories that reveal how their customers are finding success through Mailchimp's services. In other words, by featuring "how-to" content and customer success stories, they are showing, and not telling, their audience how they can help leverage email to meet business goals.
Another successful brand that has done a good job of demonstrating authority is Warby Parker. As a company that sells customized eyeglasses, one way they show their expertise is by offering visitors to their website a fun and engaging quiz to determine what pairs of glasses they might be most interested in. Not only is this a clever way to get visitors to engage with their site, but it reveals a deep understanding of both their audience's desires and preferences. This formulaic, personalized, and detailed quiz helps them establish that they really know the eyeglasses business.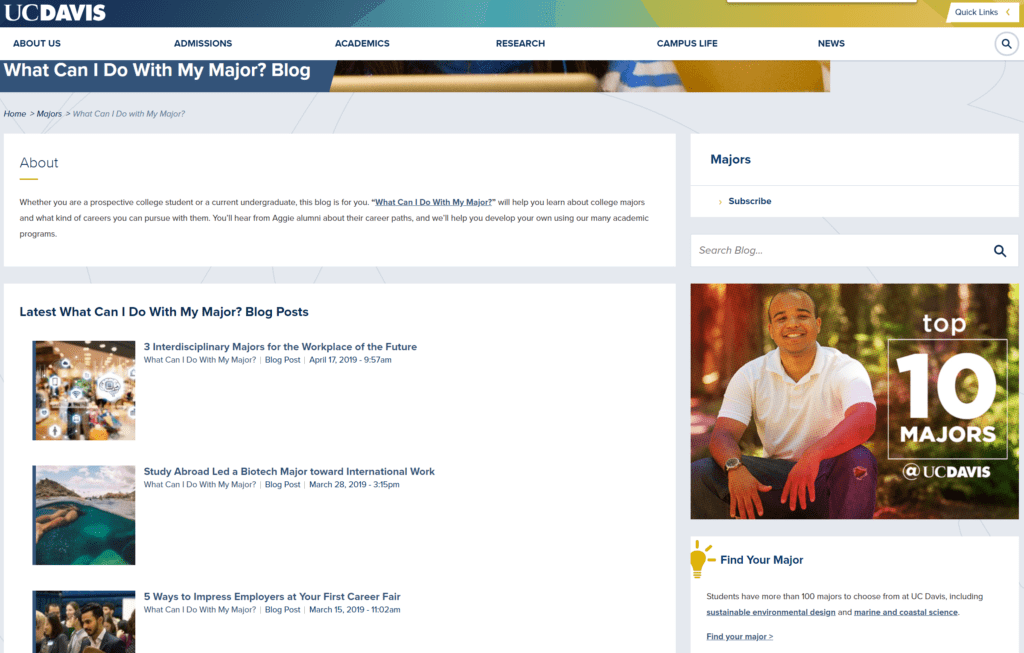 As an example related to higher ed, UC Davis conveys authority with engaging content through a blog called "What Can I Do With My Major?," which features articles and stories explaining the many career options available to students based on their selected major. Prospective students (and their parents) are therefore able to use the university as a guide to help them think about the value and possible career paths of certain majors. The blog highlights real-life examples of UC Davis alumni, which only adds to its authority as a major university committed to helping students find desirable jobs no matter their field of interest.
Using Available Resources to Demonstrate Authority
One great benefit your institution has is an "in-house" population of educated faculty and staff who can help you demonstrate your authority; as an organization committed to spreading and expanding knowledge, they are perfect resources to tap into. This is exactly what Boston University has done, highlighting their faculty experts who have been featured in the news media. Visitors can search by faculty expert or topic, ultimately walking away with the impression that BU's faculty is world class and participating actively in a variety of societal initiatives and issues.
If empathy reveals the "heart" of your brand, then authority reveals the "head." Can you feature testimonials from alumni highlighting how they took advantage of your school's career services and landed a job after graduating? Can you demonstrate to donors how their generous giving has contributed to a new learning center or science lab? Can you feature third-party endorsements highlighting the quality of your academic programs so that your audience sees that your school isn't the only one celebrating its programs? It's necessary to provide "reasons to believe" that you can actually make a difference in the lives of your audience. If they know your school both cares about them and can do something to help them, then you're telling the right story with your marketing—one your audience will want to be a part of.
There are countless ways for your institution to demonstrate authority, which include promoting testimonials, educational content, statistics, third-party endorsements, awards, community partnerships, and more. 
Steps to Consider to Build Authority in Your Marketing:
How are you not only telling your audience you can help them solve their problems or reach their goals but also showing them? Review your marketing content and look for instances when you are proving you have some kind of authority and expertise.
Where could you use stats, testimonials, or third-party endorsements to convey authority in the gaps you have in your marketing? 
How might you adopt some of the strategies used in the above examples both inside and outside of higher education?
What are some ways to incorporate the expertise of faculty, staff, or alumni? How might you best promote that expertise (in a blog, video, social media post, etc.)? Similar to the last chapter, it's worth collaborating with others on campus and thinking this through for each major audience separately.