Become a Member
A new, in-depth guide for graduate students.
Abound: Grad School connects graduate students to the right institution by focusing on what matters most. It's not about how rich or famous a school is. It's about finding the best place to pursue their goals and succeed.
Students can compare on-campus and online master's programs, get resources and opportunities to support their personal and professional growth, and navigate the grad school selection process in a rewarding and efficient way.
Benefits for Schools
Abound Insignia
Display our seal of approval (in digital or print) on your website, recruitment materials, and regional or national promotions.
School Profile
Be featured in our Guidebook and website along with your pictures, videos, degree descriptions, statistics, and success stories.
Content Marketing
Contribute an article to our Student Advice blog. Guest posts include an author bio as well as a link to your school's website.
Marketing Templates
Receive a customizable press release template that you can use to announce your acceptance as a member school.
National Media
Get national recognition through our annual media campaigns to local, regional, and industry-specific news outlets.
Connect to Students
Our guidance system is a valuable resource that connects you with degree-seeking adults to help improve your enrollment.
Sample Badges
Qualification Process
Step 1: Nomination & Survey
Fill out the form below, and we'll send you our qualification survey. It covers a range of areas in our selection criteria.
Step 2: Evaluation
We spend time evaluating your school's fit within our selection criteria, as outlined below. We also review public information from sources such as the Common Data Set and the National Center for Education Statistics. During this step, we may ask you to provide some supplementary materials.
Step 3: Recognition
Based on the information we gather through your survey and evaluation, we'll determine if your school qualifies for recognition as a Top Grad School Degree Program. If it does, we'll finalize the selection process and invite you to build your profile and join our roster of schools.
Selection Criteria
Regionally accredited.
Accredited for specific programs, where applicable.
Committed to the continual improvement and growth of their program.
A leader in its discipline with faculty who are experts in the field as well as in the classroom.
Committed to the academic, personal, and professional success of adult students.
Offers external networks and affiliations for student research, experiential learning, and practicum-related components.
Provides extensive access to career services.
Offers program-specific cohorts and intentionally develops community for adult graduate students.
Transparent about affordability assistance.
Transparent about its offerings and programs.
A model in flexible scheduling and program delivery options for working students.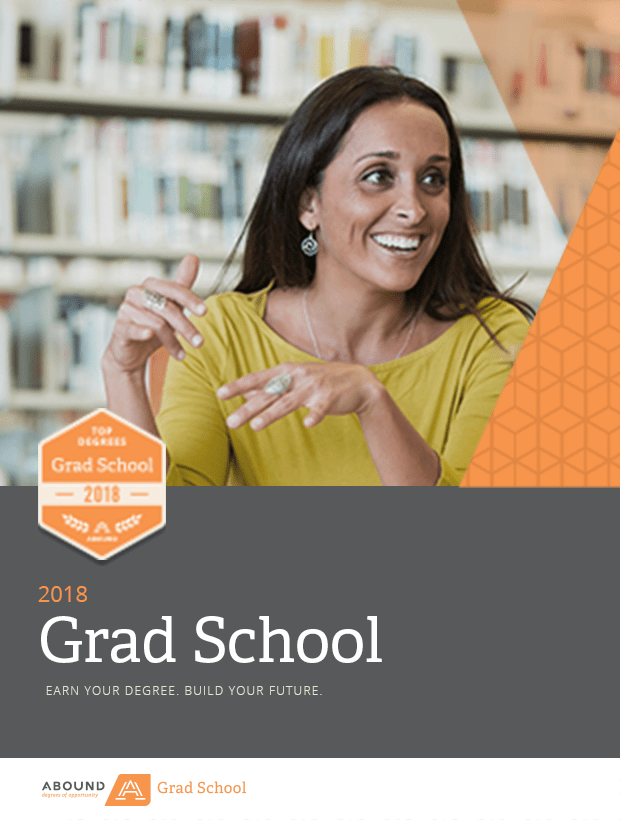 Annual Guidebook
Our Guidebook is available in print and digital formats. Each member school has a profile listed and can submit advice to be included in the front of the book, which is distributed free of charge to college counselors and HR professionals throughout the US.
To become a member or ask a question, either complete the form below or write to contact@abound.college for more information.