What to Think About When Choosing Between a Thesis & Non-Thesis Master's Degree
When choosing a graduate program, you'll find that you may have to decide between pursuing either a thesis or non-thesis master's degree. Although employers do not consider which you choose during the hiring process, your decision can significantly impact the skills you acquire in your academic career. 
What Is the difference?
A non-thesis master's degree focuses on coursework. Students are immersed into projects and learning environments that help strengthen their knowledge in their field. Similar to undergraduate programs, a non-thesis program is structured around assignments, group and individual projects, and exams. Research may be included somewhere in the program, but it is primarily focused on helping students achieve skills that will help them become more successful in their careers. This degree path typically has more courses than a non-thesis degree but can be completed in a shorter amount of time.
A thesis master's degree is more research intensive. Students who aim to work on a thesis can expect to do more reading and writing as they specialize their knowledge. The coursework is generally centered around preparation for a final thesis, building their skills in research, data collection, analysis, and writing. Professors act more as guides and advisors who help students clarify their goals and aid in their research projects and thesis development. Master's theses are a great primer for anyone looking to pursue a Ph.D., as research skills will be crucial in the development of a dissertation.
Which One Should You Choose?
Ultimately, there is no right or wrong degree path. Both degrees offer a quality education that can help you excel. One thing to consider when deliberating is why you're pursuing your graduate degree. If you're going back to college to help you change fields or get to that next level of your career, a non-thesis master's degree can help you get there. If you want to dive into a career in research and development or pursue a Ph.D., a thesis master's degree may be more worthwhile.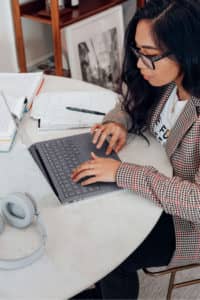 Another thing to consider is your learning style. What methods of learning do you enjoy more? If you thrive in group projects and assignments, a non-thesis degree may be more efficient in helping you retain information. For those of you independent thinkers who love to dive deeply into subjects, you might relish in the idea of the research needed in the production of a thesis. Think about what type of academic environment will motivate you to earn your degree. 
Here are 7 questions that you can ask yourself to help you decide:
What are my career goals?

Where do I see myself in 5 to 10 years?

What motivated me to pursue a master's degree in the first place?

What are my plans after graduation?

Do I want to learn in a classroom setting, or do I want to be more independent?

Am I interested in learning about research?

How much writing do I want in my program?
If you have any questions or want to learn more about what each program has to offer, reach out to your school's faculty and admissions officers. After all, the most important thing about a program isn't the name of the degree, but what you gain from it.