University of North Florida
Jacksonville, Florida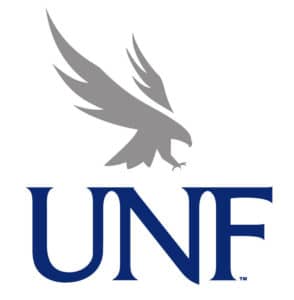 The University of North Florida's College of Business offers an MBA program that is designed to meet the graduate educational needs of working individuals through part–time or full–time options.
SHOW MORE
The program provides a well-rounded educations that focuses on helping students develop a general management perspective and various skills through a variety of approaches to learning such as lectures, case analysis, group work, and team building exercises.
Get to know University of North Florida
2-4 Years
Avg. time to graduation
Program Details & Highlights
Master of Business Administration
Faculty Spotlight
Alumni Spotlight
Master of Business Administration
Accreditation
Association to Advance Collegiate Schools of Business (AACSB)
Program Type
On campus
Full-time or part-time
Daytime classes
Time to Completion: 2-4 Years
Application Deadlines
Fall: August 1

Spring: December 21 (spring 2019 only)

Summer: March 15
Concentrations
Accounting
Construction Management
E-Business
Economics and Geography
Finance
General Business
International Business
Logistics
Management Applications
Marketing
Sports Management
Alumni Spotlight
The University of North Florida offers an Alumni Association to help alumni maintain connections with their alma mater. The association provides campus news updates, alumni events, and opportunities to connect with the osprey community.
Contact University of North Florida