North Park University
Chicago, Illinois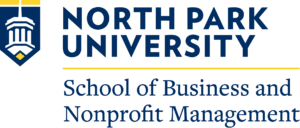 North Park University is the University of the Evangelical Covenant Church, and exists to prepare students for lives of significance and service through education in the liberal arts, professional studies, and theology. Building on North Park's core institutional identity—Christian, city-centered, intercultural—the vision is to create a university of uncommon character and enduring excellence, where faith, learning, and service meet.
SHOW MORE
Earning a degree at North Park's School of Business and Nonprofit Management empowers individuals to achieve career success. North Park offers small class sizes – available in person or online – boasts accomplished faculty, and demonstrates a supportive environment. Everything offered is designed to build skill sets, open doors, and fast-track individuals for leadership careers.  
North Park University and all programs in the School of Business and Nonprofit Management (SBNM) are accredited by the Higher Learning Commission of the North Central Association of Colleges and Schools, the regional accrediting body in the Midwest. North Park University has also received specialized accreditation for its business programs through the International Accreditation Council for Business Education (IACBE).
Program Details & Highlights
MBA Program Details
Paying for your MBA
Tour North Park
In the News
MBA Program Details
The Master of Business Administration (MBA) prepares you to advance in your current career or launch a new career by developing your management skills and building a toolkit of practical knowledge in core areas like finance, strategy, marketing, and more. North Park's interdisciplinary curriculum – including both nonprofit and corporate management concepts – and flexible learning environment will equip you to do both. Through business partnerships, hands-on research, team projects, and intentional diversity of people and ideas, you will become the kind of leader businesses seek.
"Embarking on a master's degree allowed me to enhance my existing skills while also developing many new areas. Since starting the program, I've received another promotion at work, have spoken at a national marketing conference, and have implemented two major programs at our hospital – Community Ambassador Program and Community Leader Engagement Program. I am confident that my coursework enhanced my ability to succeed and grow, and I know it will continue to serve me well." — Jenise Celestin, Class of 2018, MBA, Certificates in Leadership and Organizational Development
Accreditation
International Assembly for Collegiate Business Education (IACBE)
Program Type
Online
On campus
Full-time or part-time
Evening classes
Certificate Options
Accounting
Church Administration
Conflict Management
Economics
Finance
Fundraising Management
Healthcare Management
Higher Education Administration
Human Resource Management
Leadership
Marketing Management
Nonprofit Finance
Nonprofit Governance
Nonprofit Management
Operations Management
Organizational Development
Cost
Faculty
Paying for your MBA
Corporate Affiliations
Swedish Covenant Hospital Employee Tuition Discount
50% tuition reduction
Full-time employees of SCH who enroll in a SBNM degree program.
This employee discount is the only financial aid available from North Park for eligible students. It cannot be combined with any other North Park grants or scholarships for which the student may be eligible. Students must complete an employee verification form available in the Human Resources Department at SCH, and North Park will verify continued employment annually.
Axelson Scholarship
Students must be a full-time employee of a 501(c) organization or a local, state, or federal government agency, or have completed a successful tour of service with the Peace Corps, AmeriCorps, or Teach for America.
No scholarship application is required, but eligibility must be verified in writing on the organization's letterhead. The scholarship is awarded upon admission and written confirmation of eligibility.
Armed Forces Scholarship
Active duty military personnel or full-time National Guard and Reserve personnel (including spouses) from all branches of the armed forces and Coast Guard.
No scholarship application is required. The scholarship is automatically awarded upon admission to any SBNM graduate program and receipt of paperwork confirming military status. This scholarship renews annually with the maintenance of a 3.0 grade point average.
Learn more about using military benefits at North Park University.
Association of Fundraising Professionals (AFP) Scholarship
SBNM Scholarships
Jimmie Alford Scholarship
Amount varies
One or more awards are given each year
Students pursuing a degree or certificate in nonprofit management who have demonstrated academic excellence.
Awarded annually in September. No scholarship application is required; SBNM faculty and staff select the recipient(s).
The above scholarship is named in honor of Jimmie Alford, in recognition of his lifelong interest in young people, his dedication to education and strengthening the nonprofit sector, his loyalty, and his devotion to the cause of Christ.
Mark Farano Memorial Scholarship
Amount varies
Given to an MBA student who demonstrates strong academic performance and leadership capability.
Awarded annually in June for the following academic year. No scholarship application is required; SBNM faculty and staff select the recipient.
Married Couples Scholarship
Tuition reduction of $100 per course
Applicable where each spouse is taking at least one graduate course in SBNM in the same term.
Automatically awarded with enrollment; no additional application is required.
Continuing Education Awards
Alumni Grant
20% tuition reduction
Undergraduate degree-holders from North Park University who are enrolling as new graduate students at the University.
This grant may be used toward one course or a full program, for in-person or online courses. It cannot be combined with any other scholarship or discounts that may be offered to you.
Lifetime Learning Scholarship
Graduates from any SBNM graduate degree program are eligible to use this scholarship to take additional SBNM graduate courses for the rest of their life. They may even complete a second SBNM degree at a 50% tuition reduction.
No scholarship application is required. This scholarship is automatically awarded upon registration for courses. This award may be applied to individual courses, a certificate program, or a second graduate degree from SBNM.
In the News
FOR IMMEDIATE RELEASE January 21, 2020 
North Park University Recognized Nationally for Its Top MBA Program
College resource highlights valuable learning opportunities for MBA-seeking professionals 
Chicago, Illinois — North Park University (North Park) continues to impress with its dedication to nurturing working professionals into thriving, innovative business leaders.
Abound: MBA, a college search and guidance resource for MBA-seeking professionals, has honored North Park as a prime institution for professionals. Inclusion in the system signifies North Park's commitment to providing even the busiest of adults efficient, engaged, and valuable career-building experience.
"It is our honor to recognize North Park for helping students discover their strengths and develop the skills needed to achieve their professional goals," said Tyson Schritter, Abound's Chief Operating Officer. "North Park has expertly developed a curriculum and support team that altogether prepares its students to thrive as ethical, strategic, and knowledgeable professionals." 
Abound: MBA's Top MBA Degree programs meet several criteria in each of four main areas: Accessibility, Affordability, Acceleration, and Advancement. Each school is evaluated through a key analysis of transfer-credit assessment data, career and support services, overall accessibility of campus resources, the breadth of engaged learning opportunities, and more. North Park, as with all institutions on the Abound website, was invited to join the cohort only after an exhaustive interview with the Abound team as well as a rigorous review of its student-centered business education.
Anthony Scola, North Park University Vice President for Enrollment Management and Marketing is pleased with the recognition. "It is a remarkable honor to earn national recognition for our MBA program. North Park is committed to investing in our students' professional growth by offering a curriculum tailored to preparing MBA graduates to thrive and innovate in a competitive business environment," said Scola.
"Unlike annual statistical rankings of colleges and universities, Abound does not limit our vetting process to surface-level numbers and enrollment data. We hand-pick the schools that offer a truly valuable experience." Schritter stresses the importance of academic advising, attentive faculty, and flexible scheduling in a program that serves such a variable population of adults. "Our 20 years of work with Colleges of Distinction have given us the keen ability to identify the hallmarks of an effective education. It's inspiring to see how North Park takes an individualized approach to educate the ethical, strategic leaders of tomorrow."
To view North Park's profile, visit abound.college/mba.
About Abound: MBA
Abound: MBA connects master's-seeking adults with programs that are most conducive to their professional goals. Likewise, we help institutions attract the students most likely to excel in their unique programs. Abound: MBA is just one facet of the Abound college guidance system for degree-seeking adults, which helps students find the best place to earn an undergraduate degree, graduate degree, nursing degree, or MBA. The colleges we work with are nationally recognized for program excellence and offer courses on campus, online, or both.
Direct media inquiries to:
Mara Perlow, Senior Marketing Manager, North Park University, mperlow@northpark.edu
Erin Pettus, Vice President of Outreach, erin@abound.college | 512-994-0203 x712
###
Contact North Park University