Drake University
Des Moine, Iowa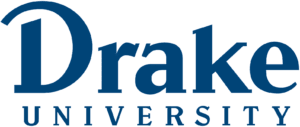 Founded in 1881, Drake University is a private university located in Des Moines, Iowa. Drake University combines a liberal arts education with experiential learning to shape confident, impactful leaders. Professionals seeking a challenging opportunity to advance their career can apply to Drake's AACSB accredited MBA program. The Drake University MBA program is Iowa's only accredited hybrid program which offers the flexibility of online classes and the personalized instruction of on-campus courses.
SHOW MORE
MBA students have access to a network of world-class professors whose combined business and teaching experience makes them experts in their fields. Drake offers students a real-world, experiential learning environment so they graduate with the skills and experience needed to succeed. Embedded into the curriculum are opportunities to work with actual clients on legitimate business problems. Drake is also proud to regularly host business leaders from Fortune 500 companies based in Des Moines and beyond.
"Drake University provided incredible flexibility and guidance in my MBA studies. I explored my passion while building a business executive knowledge base. My experience culminated in the launch of a non-profit." – Eric Kinman '2015 President and founder of Solidarity Foundation
Program Details & Highlights
Master of Business Administration
Master of Business Administration
Drake University has two scholarships available to help students fund their education. Female students are welcome to apply for the Judith A. Lindquist Scholarship if they are Iowa residents not receiving tuition reimbursement from their employers. Full-time and part-time students are eligible for the 1969 Charter MBA Class and Faculty-Endowed Scholarship.
Students in Drake's MBA program succeed because of the hybrid advantage which reduces class time by 50 percent, but still provides personal interaction. Students are immersed in advanced courses both online and on campus, and graduate with expert knowledge and real-world experience. During their time on campus and after graduation, students have access to Drake's vast alumni network, an invaluable tool in today's business world.
Accreditation
Association to Advance Collegiate Schools of Business (AACSB)
Program Type
Blended
Part-time
Evening and weekend classes
Concentrations
Accounting

Financial Management

Healthcare Management

Human Resources

Innovation & Leadership

Marketing

Non-profit Management
Application Deadlines
Spring: January 1
Summer: April 15
Fall: August 1