Samford University
Birmingham, Alabama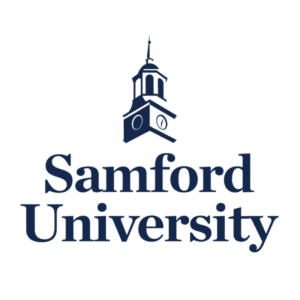 Samford University's School of Business offers a flexible MBA program that allows students to advance their careers while meeting your personal and professional obligations.
SHOW MORE
Students are encouraged to customize their MBA track and concentrations to meet their personal career goals. MBA courses are available in classroom, online, and blended settings to provide students with an optimal learning experience. Through the program, students will learn cross disciplinary competence, critical thinking and decision making, effective communication, corporate and social responsibility, and teamwork to help them transform into tomorrow's business leaders.
Get to know Samford University
12:1
Student/teacher ratio
Program Details & Highlights
Master of Business Administration
Faculty Spotlight
Alumni Spotlight
Master of Business Administration
Accreditation
Association to Advance Collegiate Schools of Business (AACSB)
Program Type
Online
Blended
On campus
Evening classes
Concentrations
Entrepreneurship
Finance
Marketing
Alumni Spotlight
With over 50,000 alumni from all 50 states and approximately 100 countries, the Samford University Alumni Association provides a network of opportunities for its members. The SUAA focuses on helping alumni maintain a lifelong relationship with Samford University by providing events, community-building opportunities, and meaningful alumni benefits and resources.
"Samford University, and especially the business school, made a significant impact on my life. I was a transfer student that had lost focus and was unimpressed with school. In just a short amount of time on campus, I noticed there was something different about the students and the professors at Samford. The students had a passion for learning that was inspiring and contagious. The professors, with so much experience outside the classroom, were there not only to teach you but also to mentor you and prepare you for life after graduation. From business plan writing competitions to managing an investment fund worth more than $1 million, the business school gave me hands-on experience that I use in leading our company everyday. Most importantly, the Brock School of Business taught me how to learn and that alone has forever changed my life." — Chief Executive Officer, Kangaroo Legal LLP
Contact Samford University
Campus Location
800 Lakeshore Drive
Birmingham, AL 35229
(205) 726-2011